Let's be honest, New York doesn't usually have the best weather for outdoor dining. But when the sun comes out it offers some really special dining experiences. If the sky turns blue don't be surprised to see the streets filled with a small tables full of interesting dishes, cocktails, and conversation. When mixed with the never-ending swarm of people walking by and the city happening around. It's truly a sight to see. But the really best places are the ones hiding on rooftops, gardens, and secret spots. Here are the few that locals swear by.
Untitled - ​At the Whitney
​The staff will tell you they can't reserve a sit on the patio, we found they will do their best to honor the request. the outdoor space, which nests around the city's building, feels just like the restaurant itself, rather than "not-used-often" sitting space. The menu created by chef Suzanne Cupps is just amazing, especially the fried-fish lettuce wraps and pork-sausage cavatelli. Yum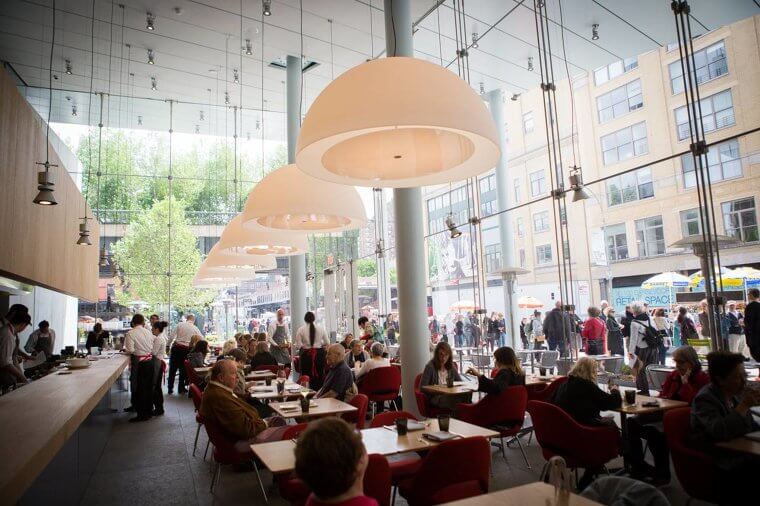 At the Whitney
99 Gansevoort St., nr. Washington St.; 212-570-3670
Terroir on the Porch
The atmosphere in this wine temple can get hot. Especially on those summer New-York days when it's 75 degrees. And people love it like that. Most just order all six of the charcuterie options and share a meal. On windy days there're also busy holding their plates down.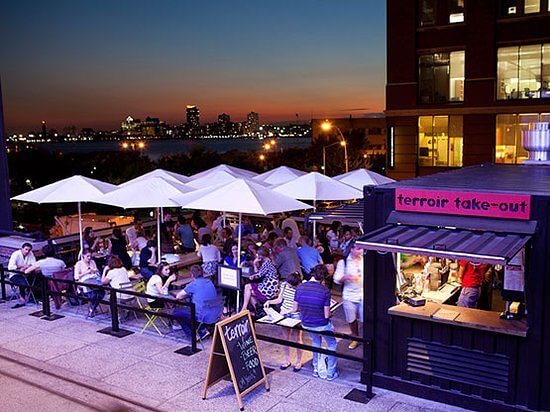 On the High Line, at W. 15th St.; 212-625-9463
 
​Charlie Bird
Believe our word when we say it's worth dining on street level for this one. A popular spot to share wine and some chile-spiked, limey fluke or a plate of pea shoots with mint. Charlie Bird's sidewalk space is large enough to serve 40 people even during those famous New-York showers or hot summer days thanks to the great coverage provided by large patio umbrellas.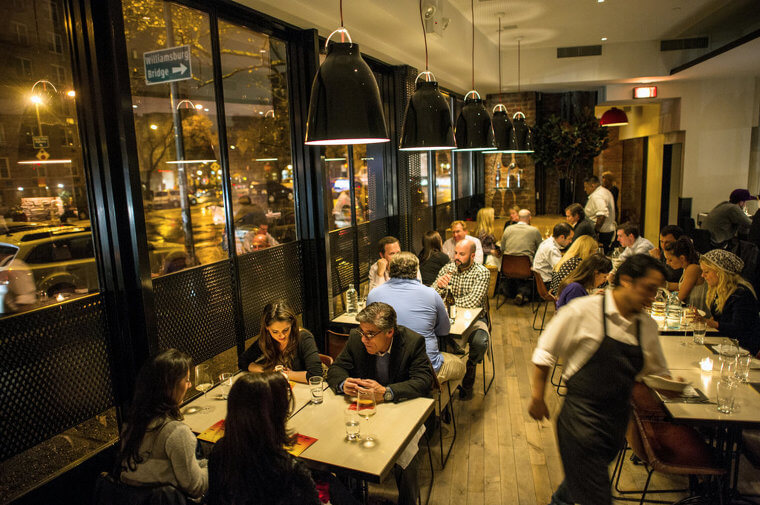 ​5 King St., nr. Sixth Ave.; 212-235-7133
​Flora Bar
The precise and restrained design gives Flora Bar's patio the fashionable-classic feeling that promises a calm dining experience. Last time we went we scored a small side table on the patio's uncrowded casual side, just the way we like it. Don't skip the excellent mandarin sorbet with the crunchy cookie on the bottom.
At the Met Breuer
945 Madison Ave., at 75th St.; 646-558-5383
​L&B Spumoni Gardens
Some would say you're not a real New Yorker until you had a couple of slices on the molded-plastic patio tables followed by a paper cup of spumoni. Don't know if it's true or not but it's worth the trip no matter you are from.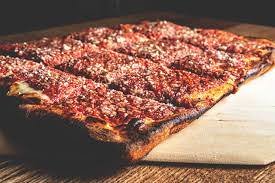 2725 86th St., nr. 10th St., Bensonhurst; 718-449-1230