To the rich and famous, there isn't much of a limit to the excesses they can enjoy, but what about the rest of us normies? Fancy cars, big houses, luxury holidays, we know these things can run to outrageous prices, but don't forget something which we actually need. It might be a vice with a shorter shelf life, but food envy is strong and these meals look out of this world, with prices to match. Drinks are not included and don't forget to tip!
1. Frozen Haute Chocolate Ice Cream – $25,000
Another Guinness World Record breaker and not a typo, there's much more to this posh chocolate dessert than meets the eye. Found at the Serendipity-3 restaurant in New York, it's a collaboration between owner Stephen Bruce and luxury jeweler Euphoria New York, containing a blend of 28 cocoas, including 14 of the most expensive and exotic on the planet. But it doesn't stop there, oh no. It's got five grams of edible 23-karat gold inside and is served in a goblet lined with more gold leaf. At the base is an 18-karat gold bracelet with 1 carat of white diamonds.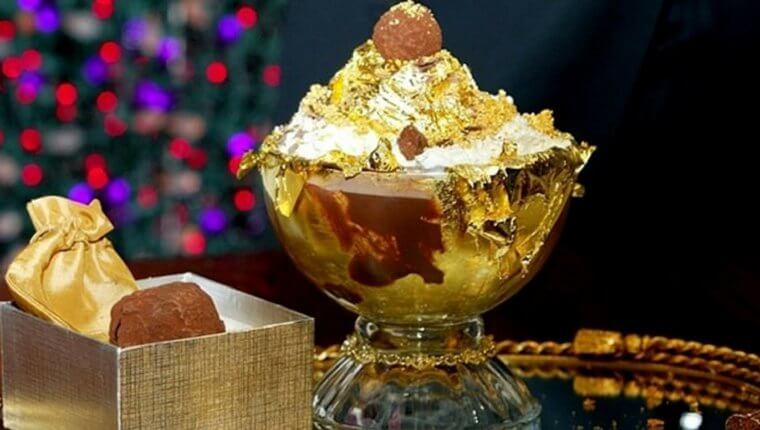 It's topped with whipped cream that we can only assume is very expensive, covered in more gold and a side of La Madeline au Truffle from Knipschildt Chocolatier, which if you haven't caught on yet, is also very expensive.
2. ​Honky Tonk Glamburger, London – $1,768
You might be thinking that a burger that costs nearly $2,000 dollars is quite a lot and you'd be right. Found at Honky Tonk in London, it's packing 220g of Kobe Wagyu beef minced with 60g of New Zealand venison and seasoned with Himalayan salt. Inside this bad boy is black truffle Brie and on top is bacon coated with maple syrup, beluga caviar, and a hickory-smoked duck egg covered in gold leaf.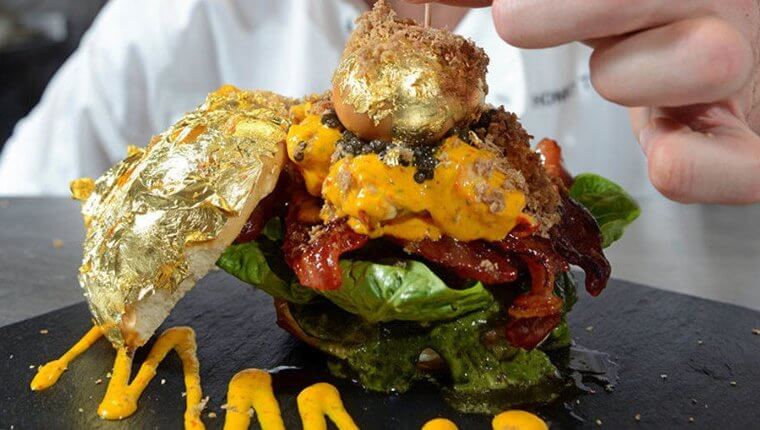 Even the bun is pimped out in gold leaf.
3. ​Angelito Araneta's Golden Sushi – $2,700
Big fan of sushi? Aren't we all, but these are probably a little out of your price range. Found in Manila, chef Angelito Araneta's 5-piece-set Golden Sushi was a 2010 record-breaker – they're that expensive. What could possibly justify that kind of price?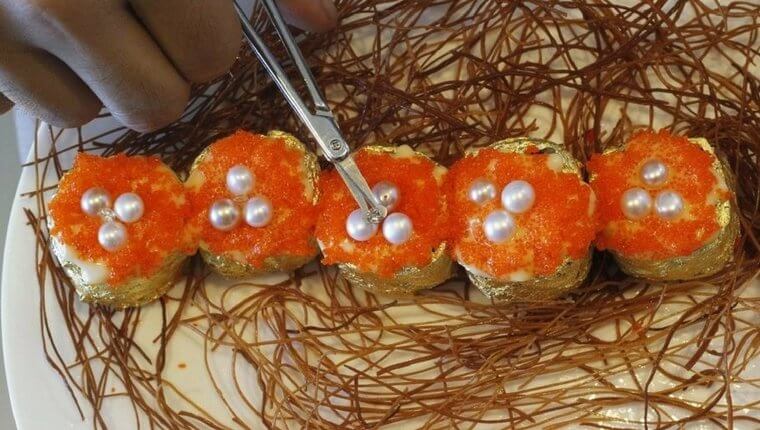 African diamonds, Mikimoto pearls, and 24-carat leaf will probably do the trick.
4. ​Samundari Khazana Curry – $3,100
Translating as Seafood Treasure, this isn't your regular tikka masala and there's a reason just one portion will cost you over $3,000. On your plate, you'll find some Devon crab and white truffle alongside a cherry tomato stuffed with caviar and some fried abalone, which costs £300 a kilo.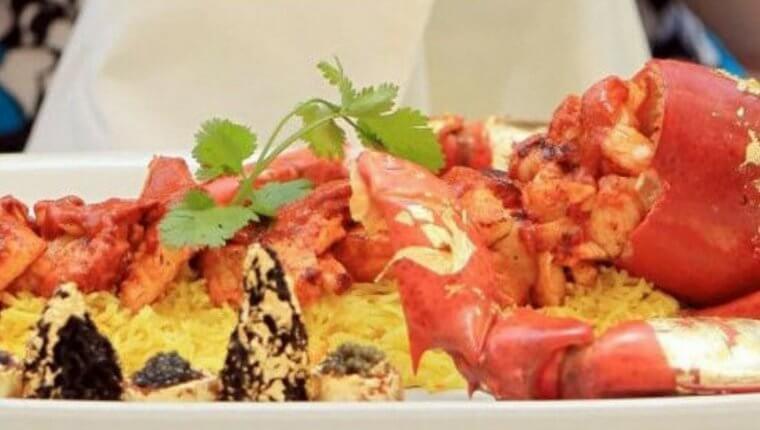 £80 worth of Scottish lobster is then covered in more gold leaf and the dish is topped off with four hollow quails' eggs stuffed with more caviar.
5. ​AnQi Pho Soup – $5,000
Vietnamese food has been growing in popularity for years now, but a $5,000 dollar bowl of soup is still a bowl of soup…Luckily, it's a double whammy and the House of An in California didn't just want to overcharge you for some food as the proceeds go to a charity for children's hospitals. That's not to say, however, that you won't be getting a fancy dish. The AnQi Pho Soup boasts some poached foie gras, A5 wagyu beef (the highest grade of Kobe), and Alba truffles.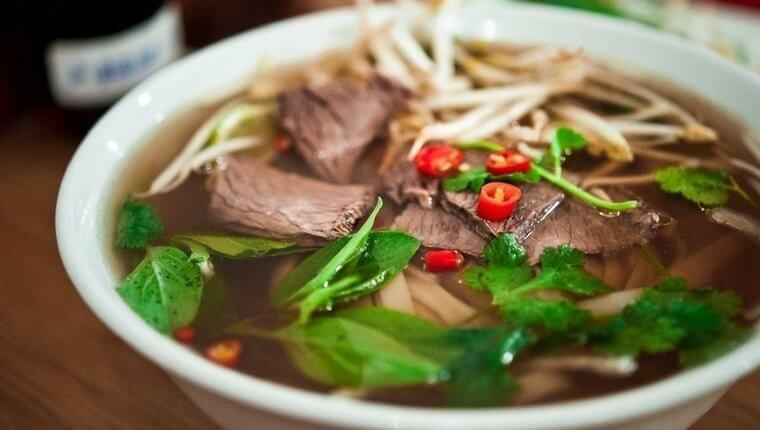 It's also rocking molecular gastronomy-devised noodles of rare blue lobster meat.
6. ​Louis XIII Pizza – $12,000
A cheeky Dominos with some gluttonous toppings will usually set you back about $10-15 and boy, does it hit the spot. If you're feeling really indulgent, however, why not turn that $15 into $12,000? Made by Italian chef Renato Viola in Salerno, it's the most expensive pizza in the world and for good reason too. The base is made from dough that takes 72 hours to prepare and is topped with buffalo mozzarella, three types of caviar (oscietra, royal classic, and beluga), red prawns, spiny lobster, and squilla mantis, all topped off with Australian pink salt from Murray Basin.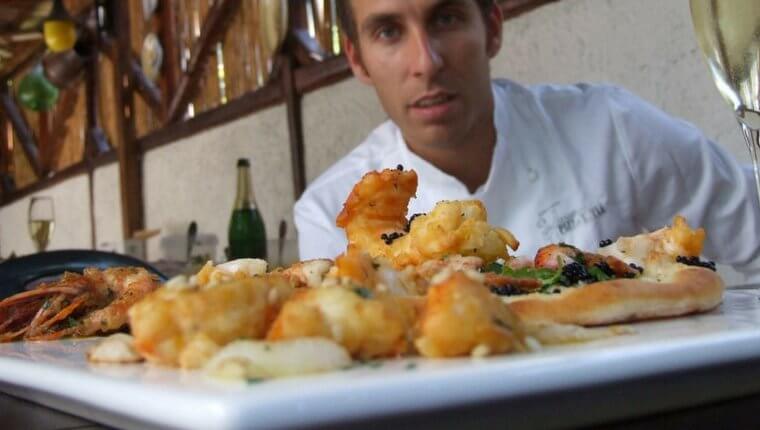 It's served with extravagant champagne on limited edition plates, glasses and cutlery, but to top it all off, the chef and his staff do it at the customer's house!
7. ​Fence Gate Inn Meat Pie – $14, 266
The Guinness World Record holder for being the most expensive meat pie in the world, it's the brainchild of Spencer Burge, head chef at the Fence Gate Inn in Burnley. Inside, you'll find 2.5kg of Wagyu beef ($850), 1.5kg of matsutake mushrooms ($3500), 4 packs of gold leaf ($460),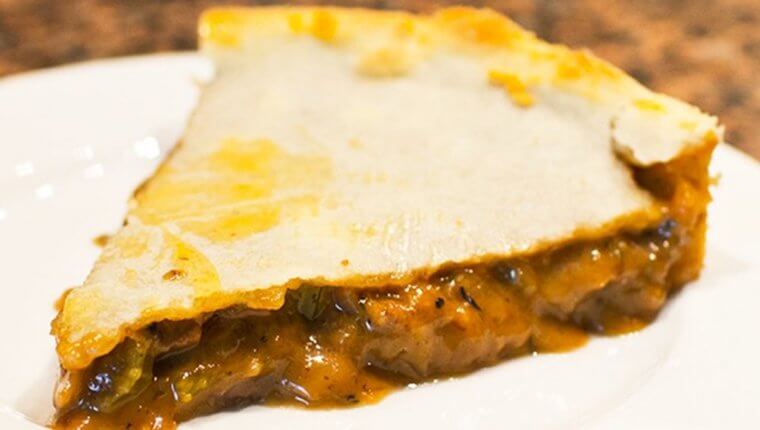 2 bottles of 1982 Chateau Mouton Rothschild ($6600) and 2 Bottles of Louis Roederer Cristal Rose pink champagne ($1050).
8. ​The Fortress Stilt Fisherman Indulgence – $14,500
The name says it all really, doesn't it? Indulgence. Could a $14,500 dessert be anything else? It consists of an Italian Cassata with gold leaf and Irish cream, mango and pomegranate compote and a champagne-based sabayon enlighten. For added 'value', it also comes with a miniature chocolate stilt fisherman sculpture cradling an 80-carat aquamarine. It might pay special tribute to the Sri Lankan pastime of stilt fishing, but what's more, is you get to keep the stone after you've stuffed your face!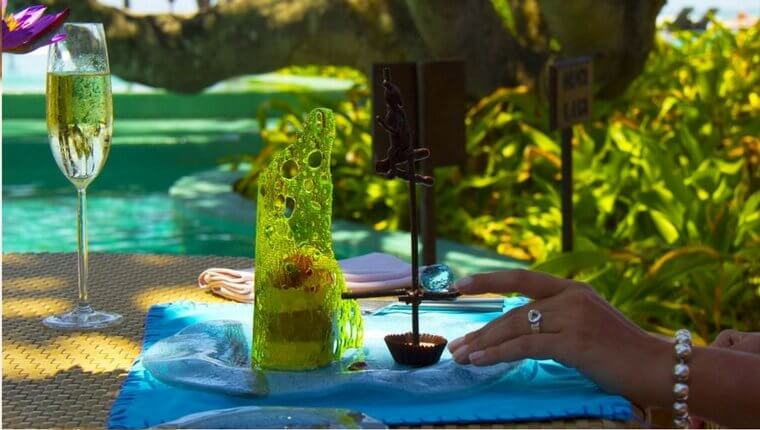 There is only one place in the world that you can enjoy this treat – The Fortress Resort & Spa in Sri Lanka.