When you think about Scotland, the first thing that comes to mind (after haggis, kilts, and bagpipes, of course) is the weather – cold, wet, windy, and grey. You might be surprised, then, to learn that Scotland is actually home to some of the most pristine beaches in Europe, even if they're not the warmest. They're not well known and certainly not easy to get to, but we promise you won't be disappointed if you make the effort.
1. Iona
The windswept and treeless island of Iona, famous for its role in the spread of Christianity across the British Isles, is home to a few stunning beaches, namely the North Coast and the Monks.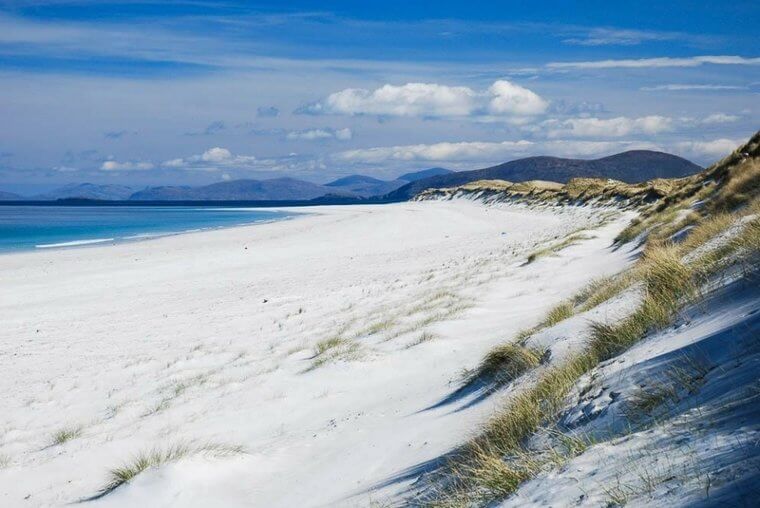 A tiny island in the Inner Hebrides, it's home to only 120 people, but a wonderful amount of wildlife, including seals, puffins, dolphins, whales, and basking sharks.
2. ​Isle of Harris
Part of the largest island in the Outer Hebrides and accessible only by plane to Stornoway or by ferry, Harris is for the more determined traveler. Found on the southwest of the island, Luskentyre beach is one of the biggest and most spectacular spots on Harris, voted one of the UK's best beaches on TripAdvisor. If you're after something even more remote, there's also Traigh Lar beach, home to the nearby standing stone of Clach MhicLeoid.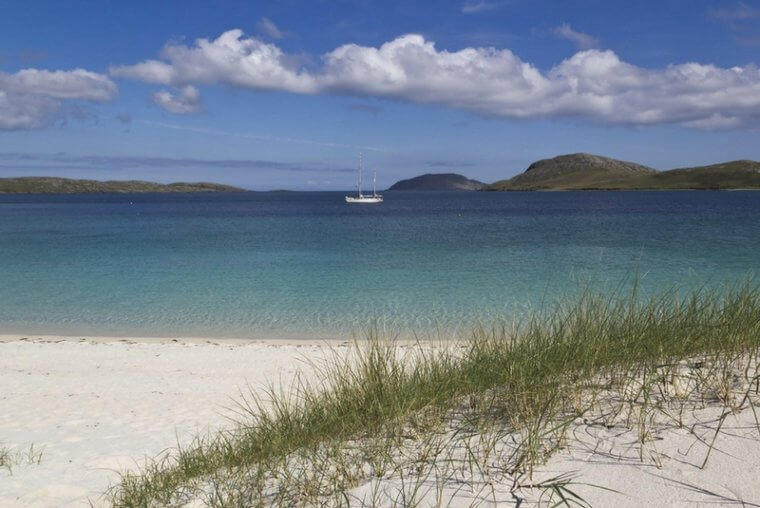 With the white sand and turquoise water, you'd be forgiven for thinking you were in Bora Bora instead of Scotland!
3. ​Langamull Beach, Isle of Mull
 More like something out of the Caribbean than Scotland, Langamull is one of the lesser-known beaches on Mull. It takes a good walk to get there,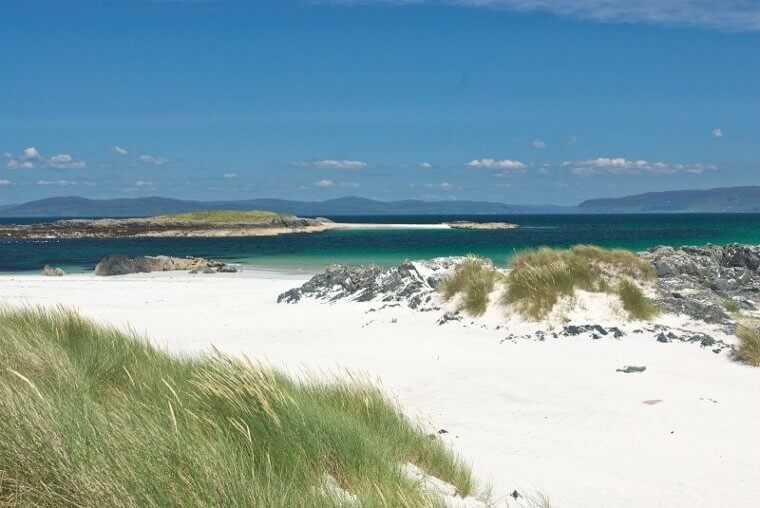 but it's worth the effort for the hidden coves and stunning views out to Rum on a clear day.
4. ​Camusdarach Beach, Morar
Near the village of Morar on the west coast of Scotland, Camusdarach beach is more accessible than some of the others on this list and on a clear day offers some of the best views in Scotland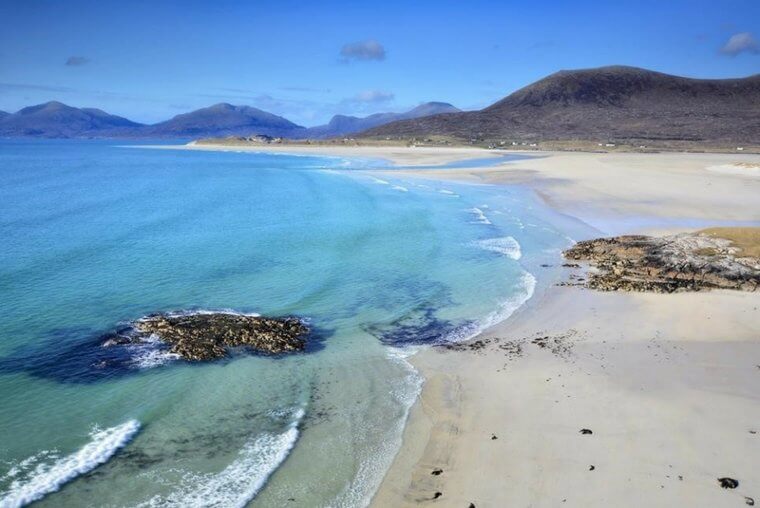 – Skye, Rum and the cliffs of Eigg across the water.
5. ​West Beach, Berneray
 Another island in the Outer Hebrides, Berneray has a magical history of Druids, Vikings and Gaelic speakers, as well as some fantastic wildlife in the summer.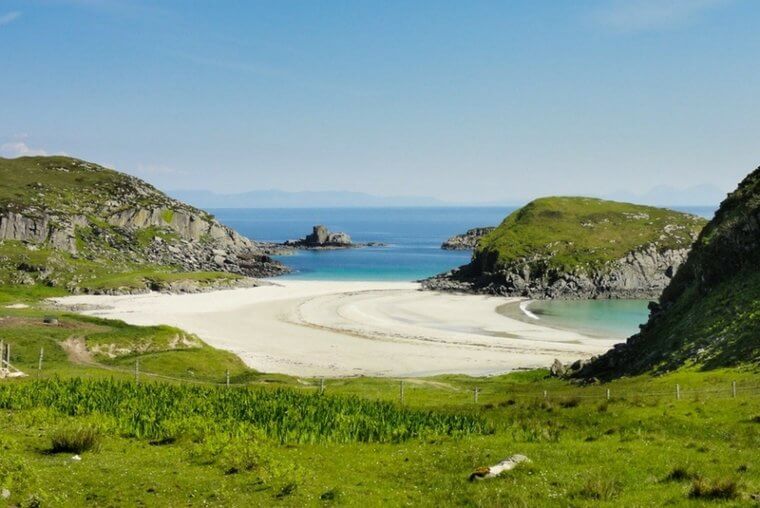 The huge expanse of white sand stretching for three miles is perfect for long walks and often entirely deserted.
6. ​Bhatarsaigh Bay, Vatersay
A tiny island in the south of the Outer Hebrides, Vatersay is an hourglass island pounded on both sides by the sea and worn down to nearly two separate islands, with attractions for both history buffs and wildlife enthusiasts.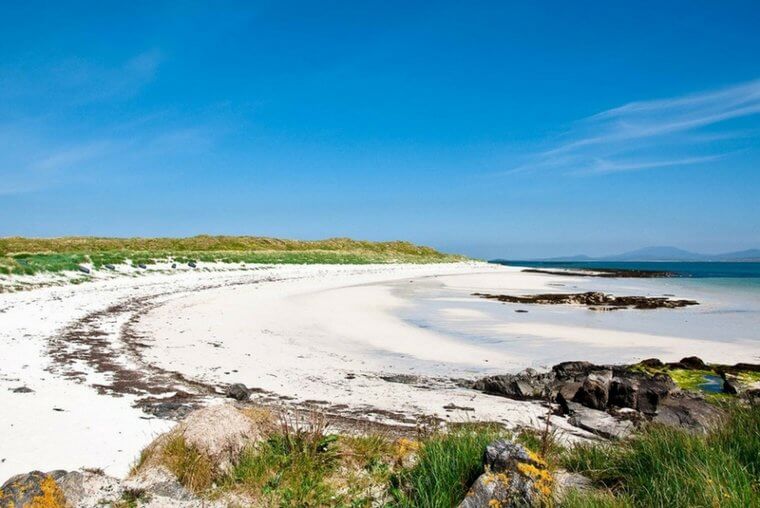 Bhatarsaigh Bay on its eastern side is a beautiful white sand beach with water in all shades of blue.